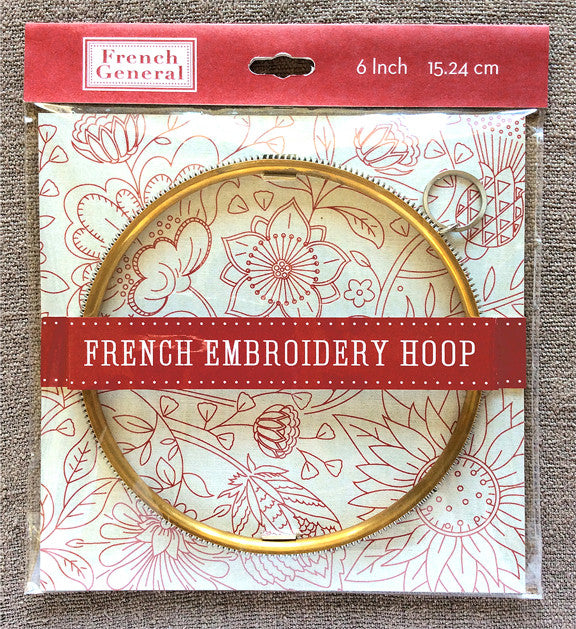 French Embroidery Hoop
A French General Exclusive!
This beautiful hoop is ideal for embroiderers, quilters and sewers.  Made out of rolled brass and a steel coil wire this light-weight hoop is easy on your hands and will hold your fabric taught without putting stress on your fabric.  Works best on a light-weight fabric such as linen, cotton or silk. 
Now available in 3 sizes:

4" is a very sweet little French Hoop which doesn't cover a lot of ground but makes a beautiful frame for finished work.
$24.00
6" is the classic size and the best French Hoop to start with.  Once you have mastered this hoop you will be ready for the next size up.
$30.00
8" is a challenging French Hoop to get on to your fabric because of the size - but hey - some like them big! - SOLD OUT

$36.00
Reviews:
I use them all the time and here are a few observations:
Love working with the 8" size but it's a bit fussy getting the fabric on the hoop. Only because of its size. Once it's there it's great.
I have been using medium to heavy weight linen. All great. On all sizes.
I think the 6" is the most versatile for me.
Just tried a light weight chambray like linen and that didn't stay as tight on the 4". But love the size for the tiny patches and Blythe doll clothes I started making.
But with that said I really prefer your hoops over any I tried.
It's easy to move the around on my work and you have to tighten up the wood ones up anyway and that's a pain.
-Michele Muska
Wholesale?
If you are interested in carrying our French Embroidery Hoops or any of our Embroidery Samplers or Floss at your shop - please write to us at notions@frenchgeneral.com and we will set you up as a wholesale account!
If you are not completely over the moon stitching with our new French Embroidery Hoop, please return it to French General in original packaging and condition for a product refund!
Watch how to use the hoop below.