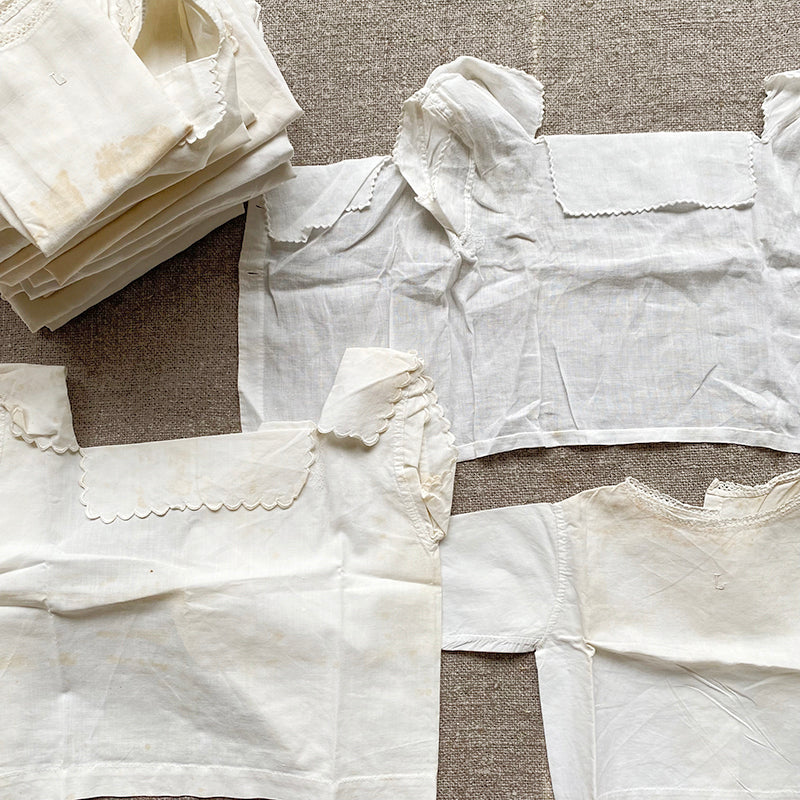 Antique French Baby Shirts - Set of Two
These shirts are all from a chateau clearing in which the dealer bought out all of the children's armoires. The clothing in the armoires went back to the 18th century. I bought all of the baby shirts (sizes 1-3) - a mix of styles and ages. from the late 1700's to the 1920's.
Colonial Williamsburg has some great observations on early children's undershirts:
Many shirts retain original patterning ironed in during the last laundering for added decoration. Pattern ironing seldom survives from the eighteenth century, as the ephemeral decoration is removed with each laundering.
This is a beautifully detailed infant's garment with almost infinitesimal stitching. The pleating of the sleeves is labor-intensive and refined, as well as intricate, with almost miniscule needlework at the shoulders. The ruffle around the collar and the front edges is made from a finer, sheerer fabric than the rest, showing a sense of thoughtfulness. To have such a refined example of pre-nineteenth century babywear is fairly rare.

Baby clothes were usually sewn with minute seams and fine stitches. All raw edges in this example have been turned under and neatly finished to prevent chafing and to keep seams from raveling during laundering. Hollie point was a needlework technique that used buttonhole stitches with an extra twist to create lace.

To wash, soak in warm water with a drop or two of soap, let dry naturally and press with a warm iron.
We will pick out two wonderful shirts for you.
Two shirts per order.