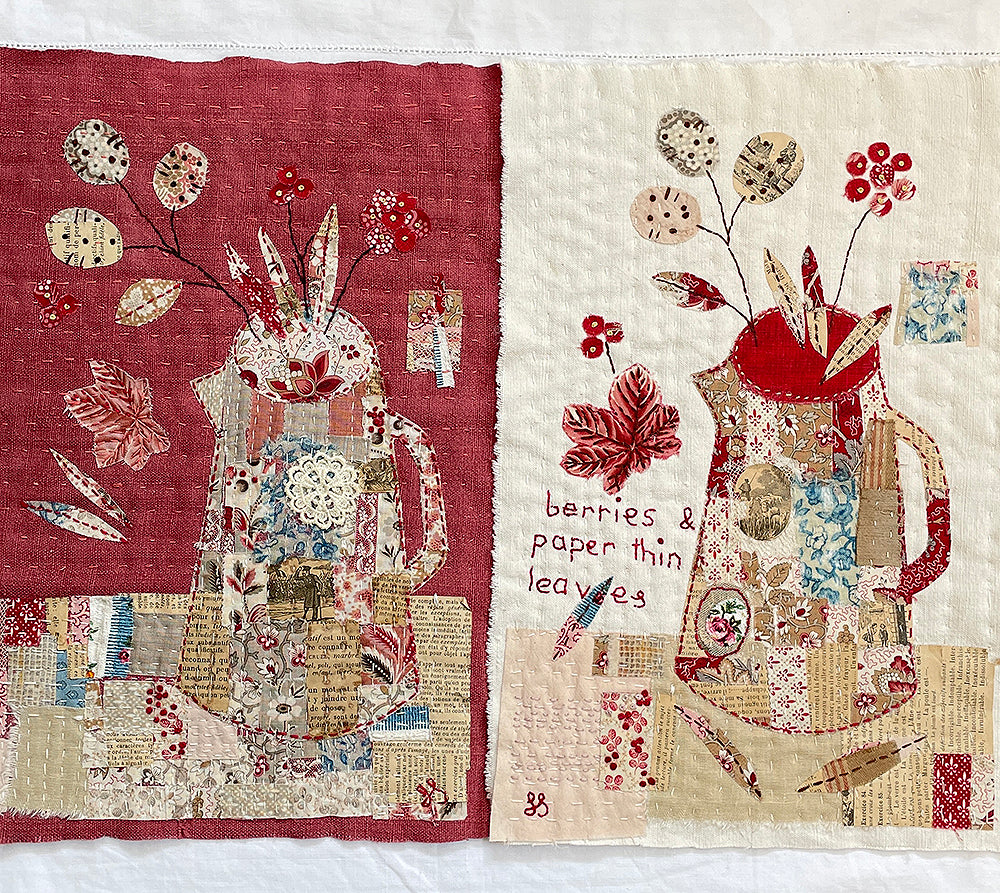 The Chantilly Stitchery Zoom Workshop with Suzette Smart / Saturday, October 7th / 9-12pm PST
We are so excited to host our first online Zoom Workshop with the incredibly talented Welsch stitcher Suzette Smart! Suzette's sense of color and appliqué techniques are refreshing and fun. Suzette will take you on a journey of stitching and story telling and along the way you will discover new ideas about stitching.
From Suzette:
"I'm not a light stitcher and I never manage to tell all in the first layer but prefer to build a story through collage, thread and a little mixed media. My work often includes hidden histories in the inherited or found fabrics and repurposed embroideries (own and other) I choose to use for collage and sometimes as my foundation layer. I mainly use free machine embroidery but the finishing stitches are often by hand."
Join us for a Saturday workshop which will feature Suzette's unique techniques and old and new French General fabric and threads. Featuring our new collection Chateau Chantilly, students will create a floral collaged textile on a vintage linen base - either in red or natural.
Workshop Kit Includes:
9x14 Vintage Linen Base
Chateau de Chantilly Scraps
Jug Template
Sewing Thread and Needle
Embellishment Thread and Needle
Wonderfuse
Old French Paper
Batting and Backing
Additional Materials Needed:
Parchment Paper
Iron and Pressing Pad
Tape for Corners of Wonderfuse
Pencil for Tracing Jug Template
Workshop kits will be shipped in September and Zoom link will be sent to you a few days before workshop. If you do not receive a link for the Zoom Workshop. please write to mogull@frenchgeneral.com

Please read our Workshop and Event Policy Details here before signing up

Read more about Suzette HERE