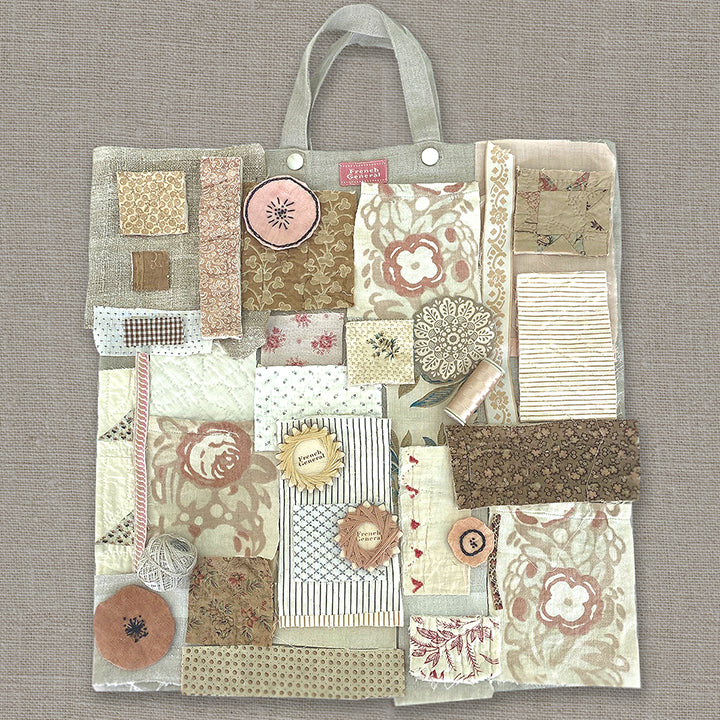 Summer Tote Stitch Kit
Our Summer Tote Stitch Kit comes with antique quilt scraps, old French fabric scraps and threads to match.  Pick apart old quilt fragments - for additional fabric. Spend a few days slow stitching these pieces of fabric to the linen tote. Add in embroidery stitches to make this tote all your own!
Kits are made in sets of 12 - every 12 kits are different - or same but different.
The Mistral Kit (shown here) is filled with soft, pale scraps in shades of neutral, brown, almond, pink and linen
The Coleur Kit is filled with colors from the late 19th century in shades of rouge, indigo, pink and purple
The Bleu et Rouge Kit is filled with shades of red and indigo from early French quilts and fabrics
Kits Include:
Antique Fabric Scraps 
Embroidery Thread
Sewing Thread
Clover Needles 
French General Linen Tote (17"x18" with 12" handles)
Creative Stitching Ideas
Choose one of three color combinations:
Mistral - neutral, low value color palette
Coleur - colorful, vibrant, contrasting color palette 
 Bleu et Rouge - vive la France!

Follow the hashtag #summertotestitchkit and post your progress!