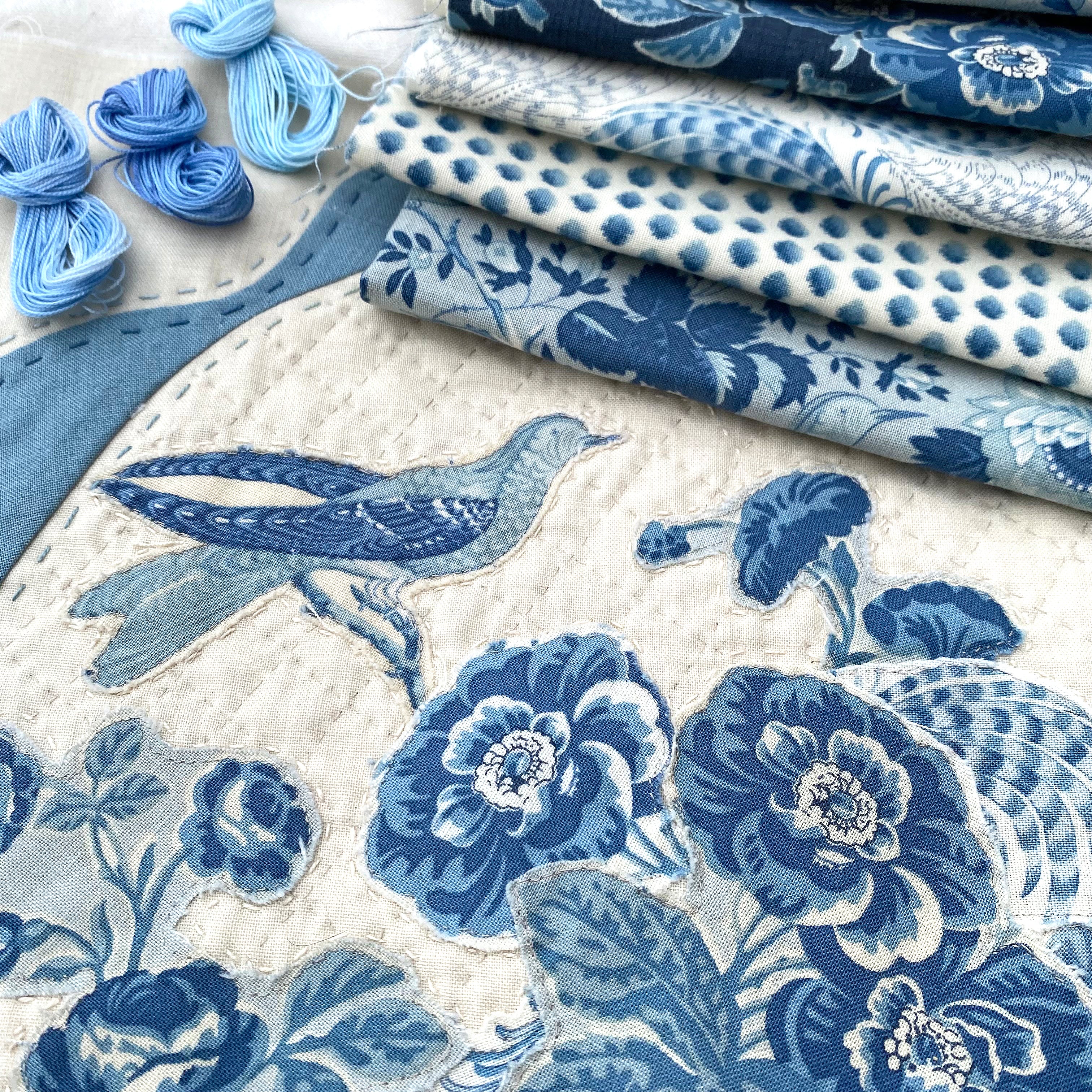 Faience Bleu Quilt Kit
This charming quilt kit was designed by Lorraine Lovell from Hettie's Patch in Adelaide, Australia.  Inspired by the antique French plates and platters we find at the brocantes in France, Lorraine designed a quilt using our new collection, Bleu de France. This stunning quilt uses both broderie perse and traditional appliqué techniques and encourages you to have fun designing blocks that are brimming with birds and flowers.
Our kit includes everything you need to make this quilt:
Bleu de France Fat Quarter Tower (32 pieces of 17"x22" fabric) for Quilt Blocks and Backing
2 Yards Ciel Bleu Fabric for Quilt Base Blocks
2 Yards Smoke Fabric for Quilt Base Blocks 
1/2 Yard Pearl Fabric for Backgrounds
1/2 Yard French Bleu Fabric for Binding
60 Weight Thread for Appliqué
Appliqué Needles
Threads for Hand-Quilting and Embellishing
Quilting Needles
Freezer Paper
Quilt Pattern
Additional Materials Needed:
Small Sharp Scissors
Fabric Scissors
Iron and Pressing Pad
Batting 
Finished Size of Quilt: 64" x 60"
Our new collection, Bleu de France highlights all of the beautiful French blues. Bleu de France (French Blue) is a color traditionally used to represent France. Blue has been used in the heraldry of the French monarchy since at least the 12th century, with the golden fleurs-de-lis of the kings always set on a blue background. This classic collection will blend well with all of our Favorite Solid colors to make up a collection of fresh, modern quilts.