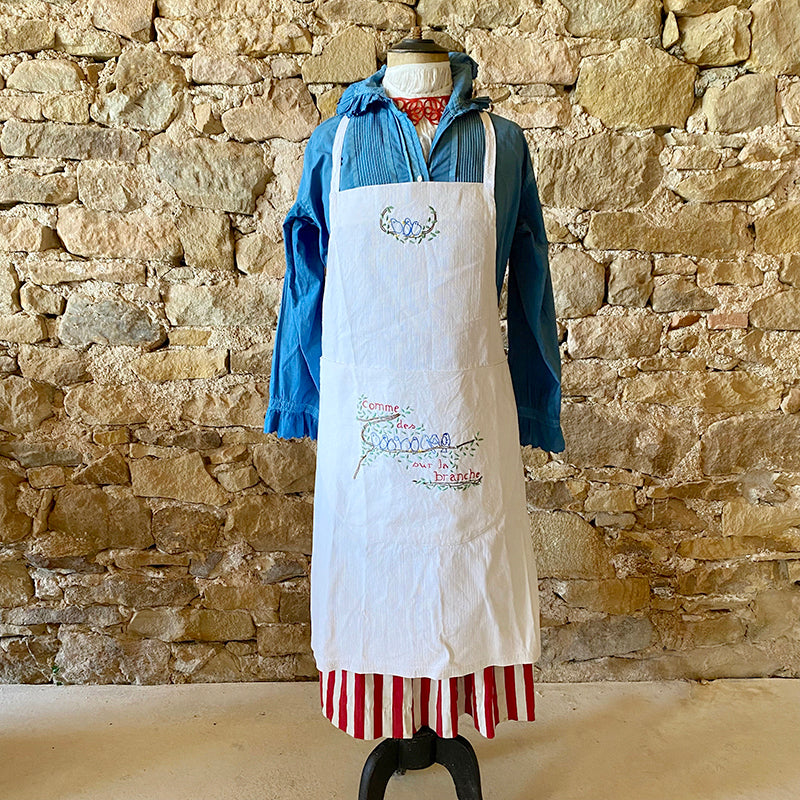 Vintage French Aprons
Still a lot of beautiful aprons to be found at the brocantes in France!
Here are a few of my favorite I found this summer - all are old, and all have been gently used. 
Embroidered Apron: Comme des sur la branche (Birds on a wire) A rustic linen hand-embroidered medium size apron. 
Waist Apron: A beautiful long cotton waist apron with an eyelet panel on bottom of apron. Small red AG monogram near apron ties. 
Waist Apron with Pockets: Another beautiful long apron with front pockets sewn into the apron. Small JA 2 monogram near apron ties.
Bib Apron: A large cotton apron with lots of sass! Embroidered pockets and bib - I believe it's a Lily of the Valley motif.
Ticking Apron: A very early rustic apron made with antique woven ticking - hand sewn with brown twill ties.
Child's Apron: A rare example of a child's apron, sewn out of cotton with a small pulled thread detail near hem. One of the apron ties is missing and will need to be repaired.