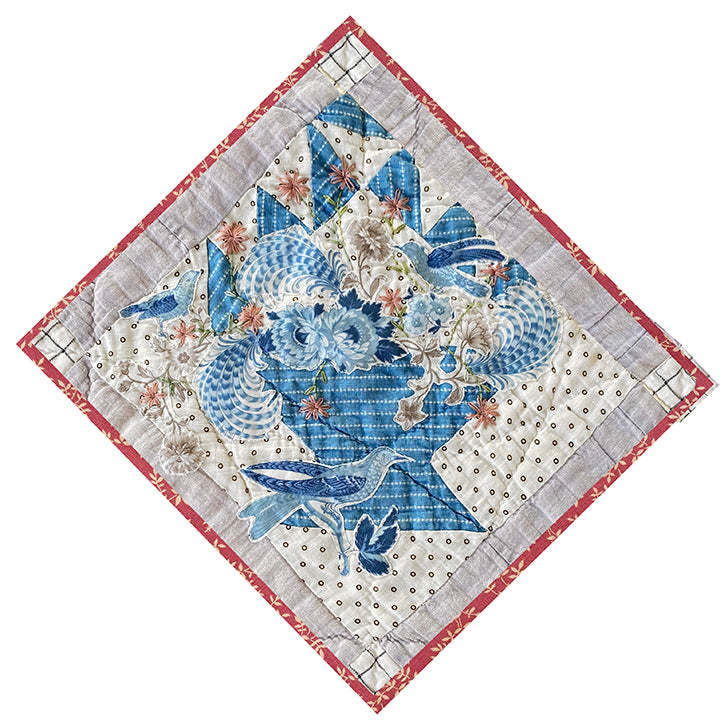 Fleur Bleu Stitch Kit
This stitch kit includes everything you need to make up a beautiful piece of hand-stitched art.   Cut out all of the flowers. Use the Wonder Fuse to reinforce your flowers then fussy cut flowers and iron down to the antique quilt block.  Using a sewing needle and sewing thread, tack down all the flowers to the quilt block. Use the embroidery thread to embellish and embroider details onto your block - we used the chain stitch to make the flower stems, and the French knot to add in small bouquets.  Add your own small scraps and decorative bits to make this piece uniquely yours.
Don't forget to sign your block by using a pencil or water soluble pen and then embroider your name and date.
Once your work of art is complete, bind the edges and make a small wall hanging or pillow - or add this panel to a crazy quilt!
A bit about the quilt block used in this kit: early 1900 basket block with the half square triangle handle, lots of cadet blues and neutrals. Some blocks are missing a grey sashing side - you could add in your own to make the block symmetrical. Block is set on an angle.
Kit includes:
Antique Basket Quilt Block (12x12 approximately) 
French General Flower Fabric Scraps
Wonder Fuse
Fabric for backing and binding
Sewing Thread and Needle 
Embroidery Thread and Needle