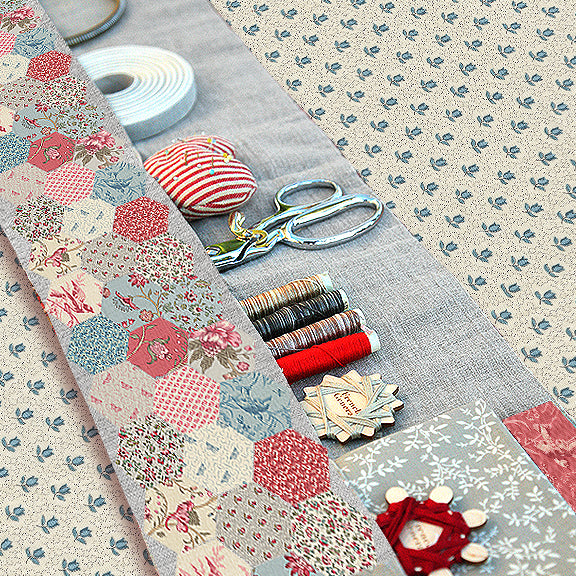 English Paper Pieced Tool Kit - Antoinette - Pre-Order Ships February 2024
If you love English Paper Piecing, you will love this kit!  Featuring our hemp tool kit and our upcoming collection, Antoinette.  Antoinette features soft reds, greys, pale blues and neutrals mixed with the French General classic deep reds.
Simply sew together 72 hexies into a long strip, remove the paper pieces, press and then sew onto the front of the tool pockets.  This tool roll can be rolled-up and tied with the attached ribbon.  Perfect for storing you sewing tools, paint brushes, or anything you love to travel with.
The Tool Kit includes:
Hemp Tool Kit with Five Pockets 8.5" x 30"
72 3/4" Paper Hexagons
Antoinette Fabric Scraps
Sewline Glue Stick
Sewing Thread and Needle
*Sewing notions shown in photos are not included in this kit*
All items placed with a PRE-ORDER will be shipped together once fabric arrives from Moda.  Please order items separately if you prefer not to wait till pre-order items come in.
Expected ship date - February 2024